4 Reasons To Go Glamping in Our Cabins
From our larger cottages that accommodate big families to our more intimate Cozy Q Cottage for two, we have a cabin just perfect for you and the family, including your furry family member. Below you'll find a list of reasons you may want to leave the RV at home and try glamping at Great Escapes North Texas this spring.
Glamping
1. No Setup
You can say goodbye to a lengthy setup and breakdown when you book a glamping trip. At Great Escapes North Texas, everything from dinnerware to linens is included, and there's no hooking anything up. You and your family can just arrive, bring in your suitcases and start having fun within minutes.
2. More Space For Larger Families
RVing with the family is excellent, but they can get crowded quickly if you plan to stay more than a couple of days. Camping cabins at Great Escapes North Texas range from the perfect size for a family of four to our luxurious Barndominium and Corgi Family Cottage that sleeps up to seven, so you can enjoy enough room to relax on your vacation.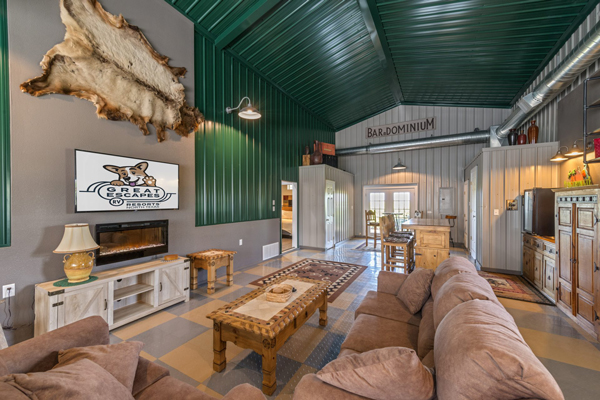 3. Less Work Once You Get Home
Let's face it, a camping vacation is a fantastic way to bond with your family, relax, and have loads of fun, but it can also be exhausting in a good way. When glamping with us, you can leave the post-trip linen washing to us, and if you use our on-site 24-hour laundry facilities, you don't even have to worry about doing any laundry when you get home. Plus, there's no RV to clean up or put away in storage.
4. Cabins Are A Home Away From Home
It's hard not to feel like you are glamping with all of the home-style amenities that come equipped with our cabins.
All of our cabins have:
Electricity
Heating & Air Conditioning
Cable TV
Wi-Fi
Refrigerator (various sizes)
Microwave
Toaster
Coffee Maker
Dishes
Bathroom with Shower
Flat-screen TV
Patio
Charcoal Grill
Picnic Table
Linens Included

Some of our cabins also have:
Full-size refrigerator
Stove/Oven
Fireplace
Bistro Seating with Chairs
And other luxury amenities
Book Your Glamping Experience Today
We have tons of Theme Weekends scheduled at Great Escapes North Texas in April, which means it's the perfect time to experience glamping for yourself. Book early, though, because the cabins tend to fill up as the glamping season heats up!
Either By RV or Cabin, Great Escapes North Texas Is The Place To Be This April!