4 Tips to Prepare a Thanksgiving Meal in Your RV
With the holiday season approaching, November is the perfect time to experience the fun and adventures of camping with the ones you love. Start new traditions and make new memories with family and friends when you spend Thanksgiving with us at Great Escapes RV Resorts North Texas. Join us for a grand feast on this special day or try your own Thanksgiving meal in your RV any time of the month.
Great Escapes RV Resorts North Texas Has The Perfect Spot to Set Up Camp This Thanksgiving!
What better way to celebrate with friends and family than with a Thanksgiving Feast ($)! Stay with us during Camps-giving and help local food banks while doing so. For every non-perishable item, you bring in, get your name entered into a drawing for a free weekend in 2022 and a coupon valid in our store!
Prepare a Thanksgiving Meal in Your RV Using These 4 Tips
Celebrate the season of giving by giving your family, friends, and yourself time together around the picnic table, enjoying a Thanksgiving meal prepared in your RV. While factors like a small oven, no oven, and/or minimal space may be stopping you from taking on the challenge, there are many ways to work around this. The following tips can help.
Tip #1: Prepare before you hit the road.
Get most of the big day's cooking done beforehand by preparing the side dishes at home and storing them in your fridge or freezer. Then, warm them up on the stove or in the oven just before serving.
Tip #2: Minimize the space you use in the RV.
With limited counter space, it's almost impossible to take on an entire Thanksgiving meal in your RV. So instead, cook outside on the grill for some dishes or purchase instant meals like potatoes to refrain from pulling out loads of ingredients.
Tip #3: Make Thanksgiving a joint effort.
Whether your friends and family visit for the day or book cabins and campsites together, you can enjoy this special time in good company and with less stress preparing. Opt for a potluck where everyone brings a dish and helps with setup and clean up.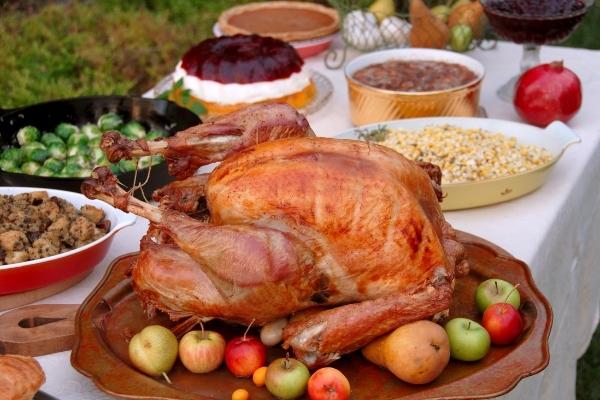 Tip #4: Find alternatives to cooking your turkey.
RV ovens are pretty small, and some folks don't have a unit in theirs. Instead of buying a giant 15+ pound turkey, cook a smaller one or purchase pre-cooked smoked turkey legs and heat them over the grill.
No matter if you join our Camps-giving meal, try preparing a Thanksgiving meal in your RV, or both, we welcome you and the family to make new memories and traditions at Great Escapes RV Resorts North Texas! Besides our year-round theme weekends and special events, we have tons of amenities and activities you and the family will enjoy after filling your bellies.
Give Your Tired Thanksgiving Traditions a Camping Makeover at Great Escapes RV Resorts North Texas!