5 Money-Saving Tips for RVers
As a seasonal or full-time RVer, you know the importance of stretching your money as far as it will go. But you also want to make the most of your adventures on the road. The following 5 money-saving tips for RVers can help you save while still enjoying all that traveling has to offer!
Money-Saving Tips For RVers
1) Cook Your Meals
Eating out is one of the most expensive aspects of traveling in an RV. For example, if you eat out three times a day, that's easily a few hundred dollars a week! With some planning and creativity, it's possible to prepare your own meals in your RV kitchen and save money in the process. It might not be as easy as picking up food from the nearest restaurant, but it will be worth it when you see how much money you've saved.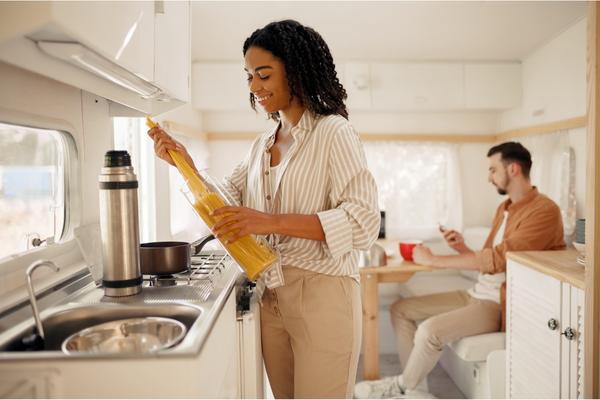 2) Sign Up For GasBuddy
GasBuddy is an app that allows people to find the cheapest gas prices in their area. It also tells you where the nearest gas stations are and how many miles away they are. When you sign up for this free program, you'll get notifications when there's a change in the price of gas at any station nearby, which helps you make sure you're getting the best deal possible.
3) Stick to a Budget
Sticking to a budget when you're on the road is important. Whether you're traveling in your RV part-time or full-time, it's easy to get caught up in spending more than you have if you don't set a limit beforehand. You can't avoid spending money while traveling, but by setting a budget and limiting the number of times you go out, it will be easier for you to spend within your means.
4) Do Your Own RV Repairs
Continuing on with money-saving tips for RVers, this one is fairly straightforward and simple. If you know how to do basic repairs on your vehicle, do them yourself. It will save you money in the long run and teach you valuable skills that may come in handy if something goes wrong while on the road. There are some minor repairs you can do without a mechanic, such as changing a tire, checking fluids, and adding air to tires.
5) Stay In One Place Longer
When you plan for a longer stay at a campground – whether it's a month or a season – you'll not only save money on gas, but oftentimes you'll get a much better rate! Take Winter Extended Stays at Great Escapes Resorts North Texas, for example.
When you spend the winter season with us, from November 1st thru April 1st, you can enjoy all that we have to offer for a mere $650 a month.
This includes (a):
Back-In RV Site
20/30/50-Amp Electric
Water Hookup
Sewer Hookup
Patio

For more details on extended stays at Great Escapes Resorts North Texas, call (940) 798-4615.
…And This is Only the Start of Saving Money
While this is only a sample of money-saving tips for RVers, it's a great start to enjoying and extending your travels as a seasonal or full-time RVers!
Interested in Winter Camping at Great Escapes Resorts North Texas?