5 Things to Look For in an Ideal Family Campground
When it comes to the quality of your family camping stay, where you camp makes a huge difference. It can make or break your entire experience. There are many things to consider when choosing a family campground to ensure everyone has a wonderful time. And while the "perfect campground" is subjective, certain elements can set a campground apart from the rest.
5 Things To Look For In An Ideal Family Campground
1. Accommodations
Many campgrounds offer an array of accommodations to choose from, including RV sites and cabins. Within a single campground, you may see families "roughing it" in campsites or glamping in swanky tiny homes and cottages. Whatever camping style you prefer will determine which family campground is right for you.
We offer both ways to stay at Great Escapes RV Resort North Texas, complete with fire rings, grills, and picnic tables! Enjoy a:
Back-in or pull-thru full hookup RV site to spread out in -or-
Cozy tiny home or cottage outfitted with all the creature comforts to make you feel right at home!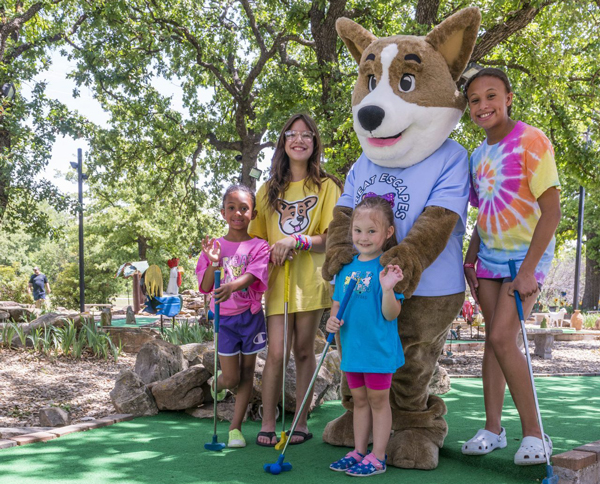 2. Amenities
Aside from offering multiple types of accommodations, look for family campgrounds that provide a variety of amenities. Conveniences like a stocked camp store, laundry facilities, WiFi, and golf cart rentals can improve your stay. No need to load up in the car and drive into town for supplies or do a load of laundry when you have all of that just steps away from your RV site or cottage. And golf cart rentals allow easy access to all corners of the grounds in a fraction of the time!
In addition to these essentials, recreational amenities are equally (or even more) important for quality camping stays! Recreational amenities can include pool areas and splash zones, mini-golf, jumping pillows, fishing, playgrounds, sports courts, and more!
At Great Escapes North Texas, we offer these amenities and more, all included in your camping fee. We also offer additional amenities at an extra cost. However, they can be bundled at a more affordable rate when you and the kiddos opt for our Fun Passes. Fun Passes give you access to the campground's Wibit, laser tag, gem mining, Biscuit meet-and-greet, and more at a 20% discount!
3. Activities
Another big draw at ideal campgrounds is the activities available onsite for families to enjoy during their stay. As if the amenities listed above weren't enough, Great Escapes RV Resort North Texas offers scheduled activities like wagon rides around the campground, outdoor movie nights, and themed weekend events! From traditional holidays like Mother's Day and Halloween to unique festivities like Outer Space and Bluegrass Weekend, you can celebrate with us, North Texas-style.
4. Pet Policy
If you have a four-legged friend in your family, you may want to bring them on your trip instead of leaving them at home or in a kennel. Always check a campground's pet-friendly policy, or call to get details before booking your stay. Great Escapes North Texas is a pet-friendly campground! Pets are welcome at all RV sites and Fido-approved cottages! There is a fenced dog park for you to take your dogs off-leash or take them for a walk around the campground on-leash!
5. Cost
Budgeting your camping trip is essential to ensure that you can afford the weekend or week-long adventure. Not only is Great Escapes North Texas family and pet-friendly, but we are also budget-friendly and offer a slew of year-round specials. Shave off the cost with offers like our Extend the Fun discounts and Fun Passes!
We Have All This And More!
For all your vacation needs and preferences, look no further than Great Escapes RV Resort North Texas! We are your all-in-one ideal family campground! Come experience the many camping adventures and make memories you and the whole family won't soon forget!
Experience Ideal Family Fun At An Ideal Campground!