5 Ways To Beat The Texas Heat On Your Summer Vacation
It's summertime, and we can definitely feel it-especially in the great outdoors! Come beat the Texas heat while still having loads of fun in the sun at Great Escapes RV Resort North Texas. With endless amenities and activities to keep you chill throughout the day, you and the family won't even be thinking about the temps when there are adventures to be had! The following are just a fraction of the ways you and the kiddos can stay cool on your summer vacation with us!
5 Ways To Beat The Texas Heat
1. Make a splash at our pools, waterpark, or Wibit floating obstacle course
Nothing says summer like swimming pools and waterparks, and at Great Escapes RV Resort North Texas, there is no shortage of either. Between our Giant Splash Park, 3 Pools, Toddler Splash Zone, and Wibit, you and the kids will start growing gills by the end of your trip.
2. Hitch a ride on the Wet 'N Wild Wagon Ride
Families can beat the Texas heat outside the pool on our Wet-n-Wild Wagon Rides. Or opt for a round of Water Wars. Either way, you'll enjoy soaking up the fun!
3. Rent a golf cart to get around the park quicker
Instead of walking around the park in the hot sun, stay cool under the shade of a rental golf cart as you zip the family off to the next activity.
4. Pick up a bag of ice or some ice cream at the camp store
A refreshing ice drink or ice cream is another way to cool down body temperature. And we have plenty of frosty favorites instock at our camp store!
5. Take a cool shower in our modern bathhouses
Rinse off in a refreshing stream of cool water when you step into our sparkling, clean showers!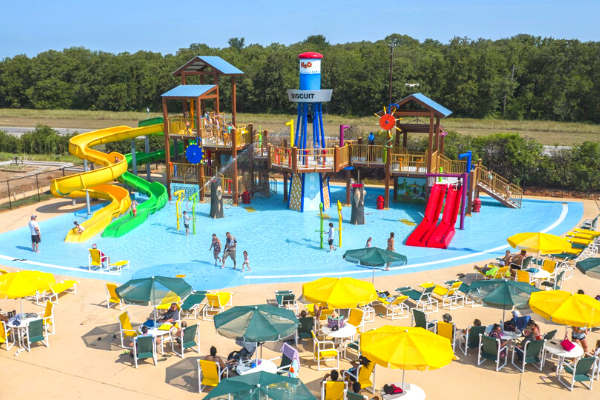 Stay Cool In Between The Adventures
In between the adventures, you and the family can continue to beat the Texas heat while you rest at your RV site or cabin. Every full hookup RV site comes complete with electric service so you canrun your RV's cooling system. And all cabins are outfitted with AC units.
Enjoy The Summer Heat With The Coolest Family Getaway!