9 Helpful Tips for Camping With Dogs
Biscuit, our Corgi mascot, agrees. Great Escapes North Texas makes it easy to travel with your four-legged companions thanks to our off-leash dog park, pet-friendly RV sites and cabins, and great outdoor experiences! Whether you're going to be camping with your pup for the first time or just need some reminders, here are some helpful tips for camping with dogs at Great Escapes North Texas.
Tips For Camping With Dogs
Tip #1:
Suggested items to pack include your dog's:
Food and water bowls
Supply of regular food/water
Treats
Collar/leash
Doggy bags
Familiar, comfortable bedding
Favorite toys
Medication/supplements (if applicable)
Tip #2:
Include a tag on your dog's collar with your name, phone number, and campsite/cabin number.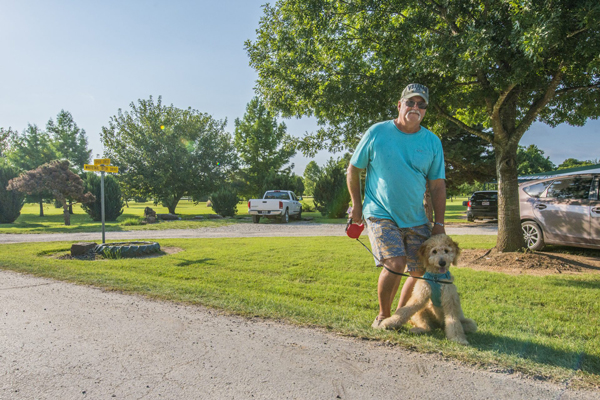 Tip #3:
Be sure your pup is up to date on shots and bring a copy of their records for proof of vaccinations.
Tip #4:
A brush and towel are handy if you have dogs that like to roll around on the ground or like the water. Wipe them dry and brush out the dirt and knots before getting back into your RV or cabin.
Tip #5:
Maintain their feeding schedule the same as it is when you are home.
Tip #6:
When camping with dogs, it's important to give your furry family members lots of love and attention! Never leave them unattended, and unless in the fenced-in dog park, always keep them on a leash.
Tip #7:
Keep them active with playtime in the off-leash dog park and exploratory walks. Dogs can get anxious while sedentary.
Tip #8:
If you have specific concerns about camping with your pet, contact us with any questions you may have. We want you to arrive at the campground as prepared as possible.
Tip #9:
Know before you reserve your spot! Pets are welcome at RV sites and in pet-friendly cabins. Fido-approved cabins can be requested during booking. For 1 pet, there is a flat fee of $25. For 2 pets, there is a flat fee of $50.
Bring the pups along for a stay in an RV site or one of our pet-friendly cabins! Camping with dogs is an experience you'll never forget. We look forward to welcoming you and your furry companion to Great Escapes North Texas this new year.
Your Pup will PAW-sitively love staying with us!