Delicious Camping Desserts To Get The Taste Buds Sizzling This Summer
From wet and wild fun at the waterpark to attending one of many onsite festivals and events, there's no shortage of family fun when you stay at Great Escapes RV Resort North Texas! And after all the day's action, it's nice to come back to your cabin or campsite and enjoy a delicious dinner and a sweet treat together! What camping desserts will you fire up on the grill or around the campfire this summer? Here are a few ideas!
Camping Dessert Ideas
GRILLED SHORTCAKE KABOBS
Kids will love mixing and matching to create their own dessert kabobs. For this recipe, you can use one or more of the following easy-to-grill fruit: strawberries, pineapple, peaches, plums, nectarines, rhubarb, apples, and pears.
Pre-cut fruit and pound cake into cubes and thread onto BBQ skewers.
Grill over medium-high heat, turning until the fruit is soft and the pound cake is toasted.
Remove from heat and serve with whipped cream.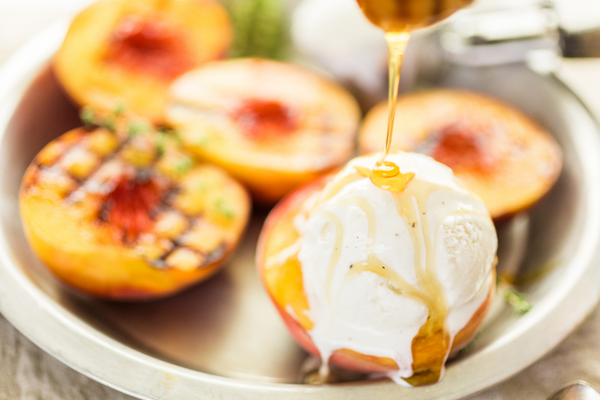 GRILLED PEACHES & YOGURT
Savor the sweetness of summer peaches within minutes using this super simple recipe.
Lightly brush oil and sprinkle a little bit of brown sugar on the inside of peach halves.
Place the peach halves face down directly over the heat of an oiled grill/grate.
Let cook on this side for roughly 5 minutes or until they develop grill marks.
Once they are ready to flip, turn them over and move them to the side over indirect heat.
Leave here for another 5 minutes or until they soften all the way through.
Remove, fill the middle with honey Greek yogurt, and serve!
BANANA BOATS
The last of the camping desserts is a fun creation for kids to sink their teeth into, especially those who love to experiment with different ingredients!
To build a campfire (or grilled) banana boat:
Slit a banana lengthwise through the peel, but do not cut all the way through. Pull the peel and banana slightly apart.
Stuff the banana with marshmallows, chocolate chips, crushed graham crackers or nuts, peanut butter, caramel, fruit, you name it.
Wrap the banana in foil. Place on a campfire or grill until the fillings have melted and the banana has warmed through.
Remove from the heat, unwrap, and eat with a spoon.
Get your fill of camping desserts by opting to make one each night at your cabin or campsite. Why not?! You're on vacation after all, and what a great escape your family will have this summer at Great Escapes RV Resort North Texas!
Have a Sweet Summer Camping Adventure With the Family!