Golf Cart Rental Tips for a Hole-In-One Stay
Looking for a fun way to explore Great Escapes RV Resort North Texas and all its amazing amenities? Rent a golf cart! Whether you choose the standard 4-seater or the spacious 6-seater limo, golf carts are the perfect way to get around the resort with ease and make the most of your stay. In this blog, we're sharing some golf cart rental tips to help make your vacation a hole-in-one experience.
Roll Through Your Stay With These Golf Cart Rental Tips
Book Early, Especially During Peak Season
The demand for golf carts is high, especially during Peak Season (Memorial Day through Labor Day), so book your rental early. You can add a golf cart rental when you reserve your getaway! Keep in mind a two-night minimum reservation is required for weekend rentals during peak season. Holidays (Memorial Day, Independence Day & Labor Day) require a three-night night minimum.
Stock Up and Save Time
Use your golf cart to quickly grab supplies from the store, like firewood for a cozy campfire or snacks for a day of fun in the sun. With a golf cart, you can get everything you need in a fraction of the time it would take to walk.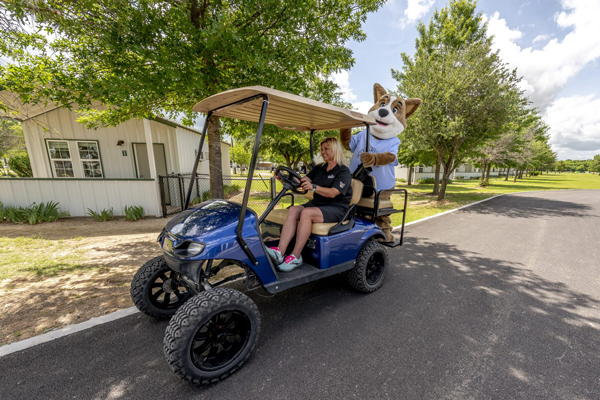 Bring the Whole Crew
Take the whole family (and all their supplies) to the pool, Wibit obstacle course, or other park attractions. With a golf cart, you won't have to worry about carrying heavy bags or dragging little ones along.
Explore the Resort
Don't miss a beat with another one of our golf cart rental tips! The resort has so much to offer, including theme celebrations. With your golf cart, you can make it to all the planned events or leisurely take in the beautiful surroundings of mature oak and mesquite trees and sweeping prairie vistas.
Extend Your Stay and Save
Want to make the most of your time at Great Escapes RV Resort North Texas? Extend your stay past the weekend and save on your RV site or cabin rental. Plus, you'll have even more time to enjoy your golf cart and all the fun the resort offers.
With these golf cart rental tips, you'll be ready for a fun-filled, rollin' good time at Great Escapes RV Resort North Texas! Remember, golf cart renters must be 18 years of age with a valid driver's license, and all golf cart renters must sign a liability waiver. Happy exploring!
Learn About Other Add-Ons We Offer Like
Fun Passes & Birthdays and Parties