How to Layer Up Clothing For a Texas Winter Hike
The mild winter weather here in Perrin, TX, is excellent for exploring the outdoors. However, dressing for a Texas winter hike can get tricky due to that lovely and moderate winter weather. With pleasant January highs in the mid-50s on average, it's cool enough to want a sweater or jacket when not moving, but warm enough to quickly start sweating once you are moving around. The best way to make sure you stay comfortable while exploring the hikes near Great Escapes North Texas this January is to layer up.
What is Layering
Just like it sounds, strategically layering up clothing allows you to regulate your body temperature while outdoors by allowing you to add or remove clothing depending on how you feel.
Base Layer
This is the layer closest to your skin, and it's best to wear a moisture-wicking material. Wicking fabric will draw sweat away from your body to help you stay dry. A long-sleeved polyester or thin wool shirt and underwear are excellent moisture-wicking options.
Middle Layer
This is your heat retaining layer. If you were spending a day in the snow, this would be the fluffy layer that retains your body heat to keep you warm. However, we did mention that the winter weather at Great Escapes North Texas is quite pleasant and moderate. So when you are hiking near our resort, the middle layer doesn't necessarily need to be more than a sweater or a light jacket when hiking.
Outer Layer
This layer shields you from the wind or rain. It could be a windbreaker that fits over your other layers. Some winter ski jackets have both a middle layer and an outer layer. Water-resistant windbreakers can usually be rolled up and placed in a small backpack or easily carried if it's not windy.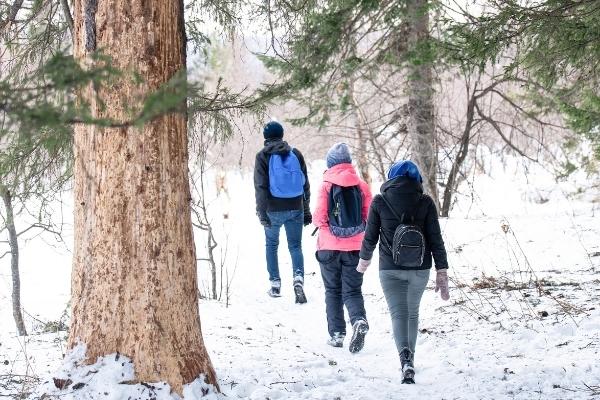 Layer Up For These Nearby Locations For A Texas Winter Hike
Visit one or all of the following winter hiking locations to practice layering up on your upcoming Great Escapes North Texas trip.
Mineral Wells: Hiking and rock climbing (16 miles from Great Escapes North Texas)
Fort Richardson State Park: Twelve miles of trails (17 miles from Great Escapes North Texas)
Great Escapes North Texas: We've got views of the lake and a backdrop of mature oak and mesquite trees, sweeping prairie vistas, and big blue Texas skies that make for quite a relaxing Texas winter hike. You may not even need to layer up. Just step outside your RV or cabin, and go for a stroll.
Make your Great Escape this January!