Top 6 Tips for Laser Tag Fun at Great Escapes RV Resorts
Dive into an adventure at Great Escapes RV Resorts North Texas! Our laser tag arena is where friendly competition meets a whole lot of laughter with family and friends. With laser beams zipping through a maze of fun, this game is a blast for all ages. Check out these fantastic tips for laser tag to gear up for an exhilarating experience!
Top 6 Tips for Laser Tag Fun
Tip 1: Get Acquainted With The Rules
Understanding the rules is the first step to laser tag success! It's simple and fun, welcoming both the young and the young at heart. Our friendly team at Great Escapes RV Resorts North Texas will make sure everyone is game-ready in no time!
Tip 2: Dress For Success
Comfort is key, so deck out in comfy, dark-colored attire to maneuver around with ease while staying under the radar. It's all about blending in while standing out in the scores!
Tip 3: Strategize Your Victory
Whether flying solo or rallying as a team, a good plan is essential. Following the right tips for laser tag can turn the tides of laser battle in your favor. Communication is your ally, and a dash of cunning is your secret weapon. Let the laser tag arena be your playground of strategy!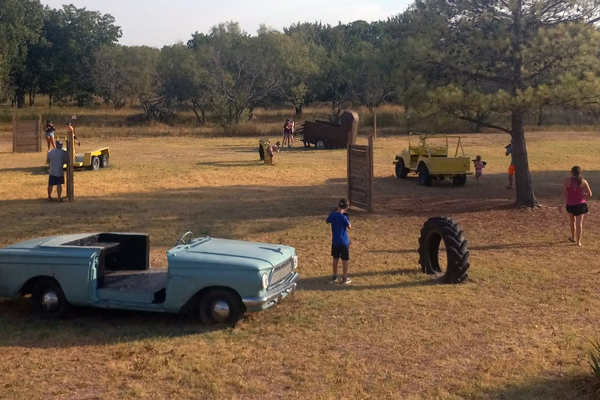 Tip 4: Gear Up Right
Before stepping into the laser-lit battleground, ensure your gear is up to mark. Our resort team members are always ready to assist, making sure everything's working perfectly. And guess what? We provide all the equipment you need; just bring your enthusiasm and adventurous spirit!
Tip 5: Safety, Fun, and Fair Play
Abiding by safety guidelines ensures everyone has a blast. At Great Escapes RV Resorts North Texas, fun, safety, and fair play go hand in hand, paving the way for an unforgettable laser tag adventure.
Tip 6: Bundle Up The Fun
Why stop at laser tag? Bundle up the excitement with Fun Passes, unlocking a treasure trove of activities waiting to be explored at Great Escapes RV Resorts. It's a passport to endless fun and laughter with your family and friends! And here's the cherry on top – you'll also pocket a cool 20% savings! So why wait? Grab a Fun Pass and catapult your adventure to a new level of excitement and value.
Armed with these tips for laser tag, you're all set for a day filled with action and laughter at Great Escapes RV Resorts North Texas. Get ready to light up the arena with laser beams, cheer, and the spirit of camaraderie. The arena awaits your valor, and the adventures are endless with our fun passes. So gear up, aim high, and let the laser tag fun begin!
Ready to Ramp Up the Fun?