Why Families Prefer Cabin Rentals Over Hotel Rooms
Staying at a hotel on vacation may seem more fun, convenient, and affordable, but cabin rentals have many benefits, often presenting themselves as the better choice. On your next family getaway, try something different and rent a cabin. You might just surprise yourself and forget ever staying in a hotel again!
The Upside of Cabin Rentals
1. Privacy and Space
As a stand-alone unit, cabin rentals offer more private, peaceful settings surrounded by natural scenery as opposed to some stuffy city hotel rooms separated only by a single wall. Depending on the floor plan, cabins can have multiple bedrooms or sleeping spaces for additional privacy.
2. More of a Variety
Typically, hotel rooms sleep anywhere from 2-4 occupants. Cabins, as mentioned before, come in an array of floorplans and setups, allowing larger parties to stay together. In the case of renting multiple hotel rooms to accommodate a big group, you'll be lucky if you get rooms on the same floor, let alone next to each other.
3. Access to a Kitchen
Opting for a cabin with a fully equipped/fully stocked kitchen also helps save on vacation expenses. Instead of eating out every day for every meal, you can prepare and cook right in the comfort and convenience of your rental!
4. Access to Resort Amenities
Cabins are usually accommodations at resorts, which means your comfy rental comes complete with access to all of the vacation destination's conveniences and activities. So amenities like pools, sports courts, fishing ponds, a resort store, and more are all within walking distance of your front door.
5. Pet-Friendly Options
Hotels are not as accommodating to pets as cabin rentals. Unless you are on the bottom floor of a motel with immediate access to the outside, walking your pup through a hallway, down an elevator, through a lobby, and then outside is not ideal. Pet-friendly resorts often have dog parks and grassy areas, so cabin renters can easily give their pets breaks throughout the day.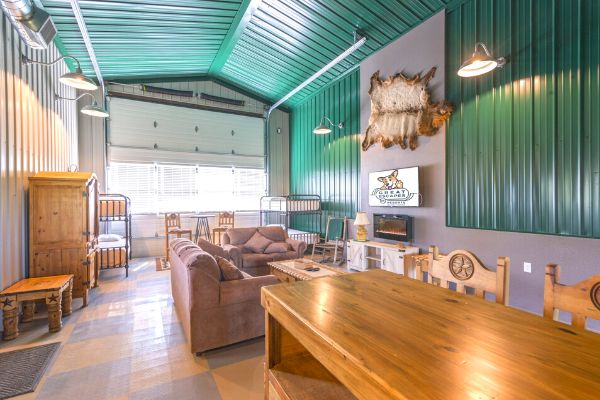 Choose From Our Selection of Comfy Cabins
At pet-friendly, family-friendly, cabin-friendly Great Escapes RV Resort North Texas, we offer an assortment of affordable cabin rentals for large and small groups. Plus, we provide a variety of exciting amenities and attractions to complement every day of your stay. From our Corgi Family Cottage, which accommodates up to seven, to our more intimate Cozy Q Cottage for two, we have a cabin just perfect for you and the family, including your furry family member.
Check Out Our Selection And Book Your Ideal Cabin Getaway Today!