Your First Family Adventure: Camping Tips for Beginners
Venturing on your first family camping adventure is an exhilarating experience, and we at Great Escapes RV Resorts North Texas want to make it as seamless and enjoyable as possible. Using the collective wisdom of our experienced staff, we've gathered some essential "camping tips for beginners" designed to guide you through your unforgettable stay under the sprawling Texas sky.
Camping Tips for Beginners
Tip 1: Reserve Early to Get the Best Spot
Our staff has seen time and time again the benefits of early reservations. By booking your campsite in advance, you get to choose from the best spots that suit your family's camping style, whether it's a full hook-up RV site or a cozy, fully-furnished cabin.
Tip 2: Arrive Early to Get Acquainted
Arrive at your campsite early in the day. This gives you plenty of time to get familiar with our top-notch amenities, such as the general store stocked with camping necessities and modern bathhouses with hot showers.
Want to make getting around the park a breeze? Consider the convenience of a golf cart rental. (Bonus Camping Tip for Beginners: Add a golf cart rental when you reserve your stay to ensure one is available at check-in.)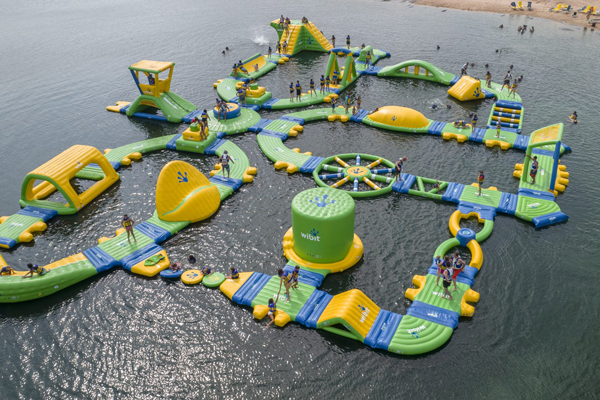 Tip 3: Balance Relaxation and Fun Activities
One key tip our staff always emphasizes is striking a balance between relaxation and activities. Great Escapes offers a host of fun-filled activities, from splashing around in our pools and tackling the Wibit™ floating obstacle course to land-based entertainment at the 18-hole mini-putt golf course and jumping pillow. There's something for everyone.
Tip 4: Be a Responsible Pet Owner
If you're bringing your pet, keep them on a leash and always pick up after them. Not only is this part of our campground rules, but it's also common camping etiquette. We offer pet-friendly cabins (some with fenced-in pet areas) and even have a designated off-leash dog park where your fur buddies can romp around freely.
Tip 5: Explore the Resort with a Day Use Pass
If you're unsure about a full camping trip, try our Day Use Pass. This lets you enjoy all the resort's activities and facilities for a single day, providing a taste of the camping experience before committing to an overnight stay.
With the right preparation, advice from our seasoned staff, and a spirit of adventure, camping can be a truly enriching experience. By following these camping tips for beginners, your first family camping adventure at Great Escapes RV Resorts North Texas promises to be filled with laughter, adventure, and unforgettable memories. Happy camping!
Start Your Camping Adventure Today