Your Sun-Kissed Winter Texan Resort Awaits
Imagine escaping the biting cold of winter and finding yourself in a warm, welcoming community at your ideal Winter Texan resort. That's exactly what you get when you choose to spend your winter months, November 1st to April 1st, at Great Escapes RV Resorts North Texas. Situated just an hour away from the bustling metropolis of Fort Worth, our resort offers a serene yet accessible winter retreat.
Your RV Site: More Than Just a Parking Spot
When you park your RV at our resort, you're stepping into a space designed for both comfort and convenience. With reliable electric service and secure water and sewer hookups, your basic needs are more than covered. But we go beyond the basics. Your site is equipped with cable and Wi-Fi, ensuring you stay connected and entertained.
Your Winter RV Site also features a cozy patio where you can sip your morning coffee, a picnic table for those impromptu outdoor lunches, and a fire pit that becomes the centerpiece of your starlit evenings. And yes, we haven't forgotten about your furry friends; our sites are pet-friendly. All of this is available starting at just $650 per month.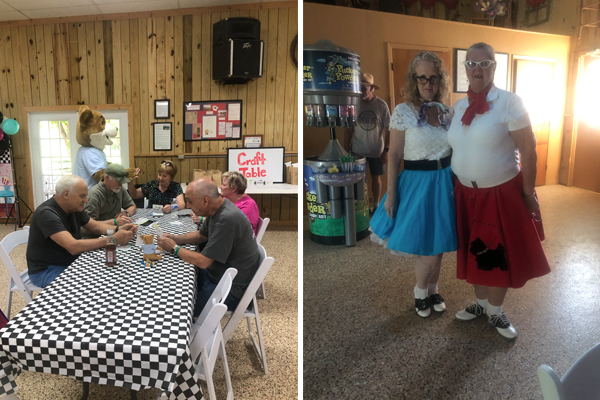 Community and Activities: A Winter Texan Resort Where Every Day is a Celebration
Winter at Great Escapes RV Resorts North Texas is a season of joy and festivity. We host themed events that range from a heartwarming "Camps-giving" feast to magical Christmas celebrations all through December. The festivities don't stop there; look forward to even more events as the New Year rolls in, starting with an unforgettable New Year's Eve bash.
Our community spaces are designed to foster friendship and camaraderie. Whether you're playing a board game at one of our clubhouses, enjoying a casual meal at our on-site café, or sharing stories and laughter around a communal campfire, you'll feel right at home.
Location: The Best of Both Worlds
Nestled in the tranquil town of Perrin, Texas, our resort is a sanctuary of peace and quiet. Yet, it's close enough to the Dallas/Fort Worth area for day trips. Explore the city's vibrant culture, shopping, and dining during the day, and return to your peaceful sanctuary as the sun sets.
Conclusion: Your Winter Texan Resort Awaits
Why settle for just getting through another cold winter when you could be thriving in the warm embrace of your chosen Winter Texan resort? Great Escapes RV Resorts North Texas is not just a place to stay; it's a community, it's a celebration, it's your winter sanctuary.
Say Adios to Winter Blues
CONTACT US & BOOK YOUR WINTER STAY TODAY