20 Refreshing Summer Snacks for Your Camping Adventure
Planning your summer camping adventure at Great Escapes RV Resorts North Texas and wondering what snacks to pack? We've got you covered with a list of 20 quick and easy summer snacks. These delicious, family-friendly bites are perfect for keeping you refreshed during those warm, sunny days at the campground.
Whether you're exploring the park, enjoying our numerous water activities, or simply relaxing at your campsite or cabin, these summer snacks will keep your energy levels high and your taste buds satisfied.
Summer Snacks for Your Camping Adventure
Frozen Grapes:
An icy, healthy treat that's perfect for hot summer days.
Watermelon Slices:
This hydrating fruit is a must-have for summer.
DIY Trail Mix:
Mix up nuts, dried fruits, and dark chocolate chips for an energy-boosting snack.
Veggie Sticks and Hummus:
Pack refreshing cucumber, carrots, bell peppers, and cool hummus dip.
Cheese and Crackers:
Opt for a hard cheese like cheddar that won't melt easily in the heat.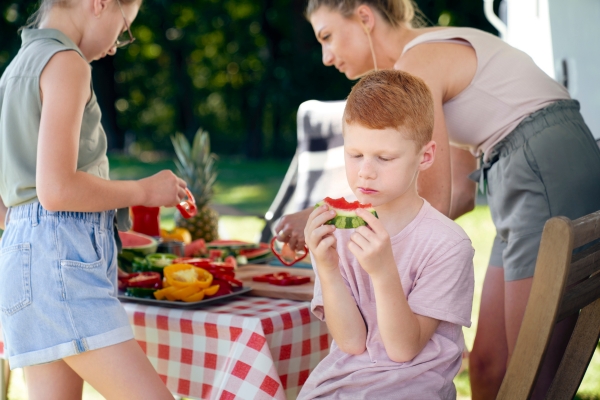 Yogurt Parfaits:
Layer yogurt, granola, and fruits like berries and bananas for a cool treat.
Chilled Shrimp:
Cook some shrimp at home, chill it, and enjoy a seafood snack at your campsite.
Caprese Skewers:
Skewer some cherry tomatoes, mozzarella balls, and basil for a refreshing bite.
Peanut Butter Banana Sandwiches:
Keep it simple and satisfying with this classic combination.
Guacamole and Chips:
A creamy, refreshing dip with a satisfying crunch.
Fresh Berry Salad:
Mix up your favorite berries for a sweet and refreshing salad.
Tuna Salad Wraps:
Make a simple tuna salad at home and wrap it in lettuce for a protein-packed snack.
Cold Pasta Salad:
Pack a pasta salad with your favorite veggies for a filling snack.
Fruit and Nut Energy Balls:
Make these at home with dates, nuts, and dried fruit for a quick energy boost.
Iced Coffee or Tea:
Brew your favorite coffee or tea, chill it, and bring it along for a refreshing drink.
Cucumber Sandwiches:
Thinly sliced cucumber and cream cheese make a refreshing and light sandwich.
Chilled Greek Salad:
Pack a salad with feta, olives, tomatoes, and cucumber for a refreshing meal.
Hard-Boiled Eggs:
Easy to pack and a great source of protein, perfect for a quick snack.
Chilled Quinoa Salad:
A cold quinoa salad with your favorite veggies can be a satisfying and healthy snack.
Chia Seed Pudding:
Made with chia seeds, milk, and a bit of sweetener, you can prepare this at home and enjoy a refreshing and healthy pudding at your campsite.
Delicious Summer Snacks and Cool Retreats at Great Escapes RV Resorts North Texas
These summer snacks are sure to add a burst of flavor to your camping adventure at Great Escapes RV Resorts North Texas. And remember, when the Texas sun gets too hot, we have plenty of ways to keep you cool. From our Giant Splash Park, pools, Toddler Splash Zone, and Wibit™ inflatables to Wet-n-Wild Wagon Rides and Water Wars, there's never a dull moment. Need a break from the heat? Stop by our camp store for some ice or ice cream, or retreat to your air-conditioned cabin rental. Our full hookup RV sites come with electric service, perfect for running your AC. Stay cool, and enjoy your summer camping with us!
Ready for a Delicious Summer Adventure?