Camping Upgrades: Boost Your Fun at Great Escapes
Have you ever thought about giving your family camping experience an exciting twist? At Great Escapes RV Resorts North Texas, the phrase "camping upgrades" truly comes to life, bringing a delightful fusion of adventure, relaxation, and pure fun.
Elevate Your Adventure With Camping Upgrades at Great Escapes RV Resorts North Texas
Camp in Comfort and Style
The beauty of Great Escapes RV Resorts lies in its flexibility. For those who love the freedom of their RV, you'll find standard sites with all the essential hookups, and if you're looking for a little extra luxury, spaces like the Pull-Thru Deluxe RV Site with its private patio await.
For the "glampers" who prefer a roof and cozy bed, full-furnished cabins offer the perfect blend of outdoor adventure and homely comfort, with some cabins featuring fenced-in dog areas for your four-legged family members.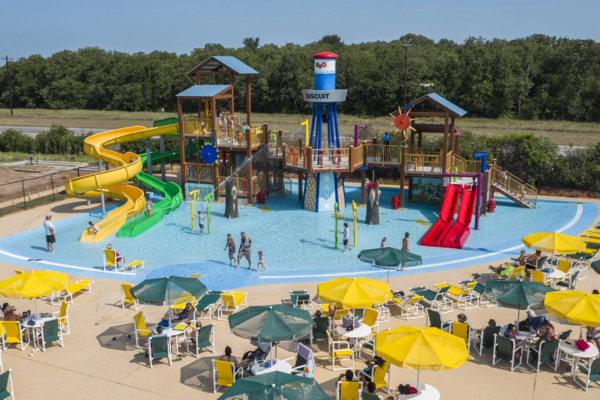 Fun-Filled Amenities at Your Fingertips
And that's not all! When you check-in at Great Escapes RV Resorts North Texas, you'll have access to an incredible array of amenities. Make a splash in the giant Splash Park or one of the three pools, let the little ones explore the Toddler Splash Zone, enjoy a friendly game at the mini golf or human foosball arena, or let loose on the Jumping Pillow. For car enthusiasts, there's an RC track, and let's not forget the themed celebrations that add a unique charm to every stay. All these are at your disposal, even before you consider additional camping upgrades.
Golf Carts: The Fun Way to Get Around
Why walk when you can ride in style? Rent a standard or 'limo' golf cart and explore the resort at your own pace. It's not just convenient; it's a whole lot of fun!
Fun Passes: Your Adventure Upgrade
And when you're ready for even more fun, consider the resort's Fun Passes. These passes bundle exciting activities like the Wibit, laser tag, and ceramics, all at a reduced rate!
Special Visits from Biscuit
Add a sprinkle of magic to your stay with a visit from Biscuit, our lovable Corgi mascot. Whether it's a 'Birthday with Biscuit,' 'Donut Delivery,' or 'S'more Time with Biscuit' package, these enchanting experiences will leave your family with memories that last a lifetime.
Great Escapes RV Resorts North Texas redefines the camping experience with a range of camping upgrades that go above and beyond. But even without these extras, the resort offers a wealth of activities and amenities that ensure your family camping getaway will be anything but ordinary. It's more than just a place to camp—it's a place to create special moments.
Upgrade Your Camping Experience